The Supreme Court is considering that question in two cases argued in October 2022. The cases are Students for Fair Admissions v. Univ. of NC and Students for Fair Admission v. Harvard College.
This is not the first time that this issue has come up in front of the Supreme Court. The two prior landmark cases - Regents of Univ. of California v. Bakke (1), 43 8 U.S. 265 (1978) and Grutter v. Bollinger (2), 539 U.S. 306 (2003) - upheld affirmative action in college applications, but the opinion in Grutter seemed to indicate that it may not be upheld in the future.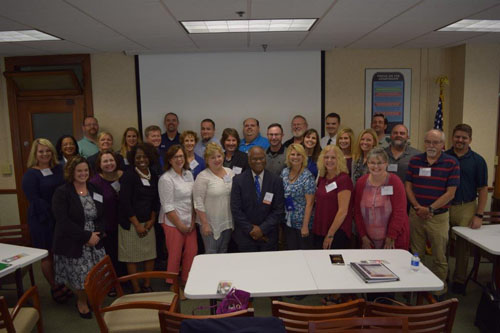 Comments from teachers:
"Awesome experience! I will definitely be sharing and utilizing your expertise in the classroom."
"What an amazing day! Thank you so much for this opportunity."
"Very enjoyable and productive day to take back to my students."
The Eastern District of Tennessee Civics and Outreach Committee is pleased to host Teachers Law Schools presented by the American Board of Trial Advocates (ABOTA) Foundation in coordination with local chapters of the Federal Bar Association.
Middle and high school teachers are afforded the unique opportunity to hear from local federal judges, law professors, and prominent attorneys about he role and function of the federal judiciary in the American democracy through the Teachers Law Schools.
Teachers are equipped with a much better understanding of the third branch of government and are provided with teaching tools to assist in educating students about civics and law-related topics. This will help students better understand and appreciate the value, relevance and impact of the Constitution, our system of government and citizenship.
Selected teachers get a unique opportunity to not only hear from local federal judges and prominent attorneys but also the opportunity to engage in in depth and substantive discussions regarding the law, the American judicial system, practical realities of the civil and criminal law procedures and systems, and current challenges.
Teachers Law Schools have been held in Chattanooga and Greeneville. The next one is scheduled for Knoxville. The Committee plans to hold at least one Teachers Law School in the district each year.
---
Naturalization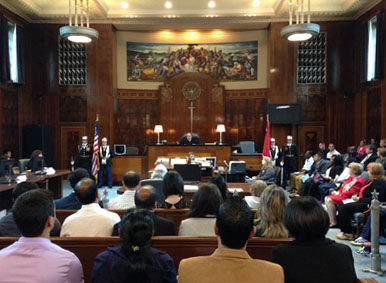 The Eastern District of Tennessee hosts several naturalization ceremonies throughout the year. Naturalization is the process by which U.S. citizenship is conferred upon a foreign citizen or national after he or she fulfills the requirements established by Congress in the Immigration and Nationality Act.
---
Mock Trials
Please check back. We will be posting Mock Trial information soon.